Restaurant Gammelbutikken
Photographer: Andres Duran
Your restaurant in Helgeland
In 1878, when the old Bakery at Støtt burned to the ground, the proprietor, a merchant name Gotaas, sailed to Åsvær, bought that entire trading post, and moved it all to Støtt!
The building that today houses our restaurant served as the Old Store (Gammelbutikken) until 1959. The store had an impressive assortment of merchandise, providing fishermen with provisions, fishing gear and equipment for their boats. The store also had a bar.
Visitors soon realize why people who love great seafood so keenly appreciate Restaurant Gammelbutikken. Its chef takes pride in preparing memorable dishes from the freshest fish from the Vestfjord and the finest locally-sourced ingredients. We can diligently account for the entire value chain, from sea and farm to your dinner plate! As a guest, you dine in surroundings that are testimony to an ancient and thriving coastal culture.
Our culinary inspiration draws on the history of Støtt Old Trading Post. For centuries, the merchants here invited guests to dine on cod and halibut, whale, clipfish, stockfish, bacalao and fish soup, all served in generous portions. Here at Støtt, we honour this tradition with dishes that satisfy and inspire.
We are proud to be the only restaurant in all of Norway that dries its own stockfish.
Menu
During the busy summer we serve set menus; at other times of the year we can more easily adapt the menu to the wishes of your group. On weekdays we serve a three-course menu that changes daily, according to which ingredients are best. However, for your main course, you will always have two options. On Saturdays we serve our impressive five-course menu.
Please inform us well in advance if you have any food allergies.
Opening hours
The restaurant is open to groups year round.
During the summer, we are open daily from 18 June to 15 August.
Lunch
12.00 — 15:30
Siste seating 14:30
Table reservations
All guests are automatically reserved a table in our restaurant. If you want to dine and are visiting for the day but not staying with us, we strongly recommend that you book a table in advance.
Norway's only restaurant that produces its own stockfish
Every March, we purchase large batches of cod and coastal cod directly from local fishermen. After removing the backbones, we hang the cod to dry on large racks outside.
In our experience, good winds and temperatures of 0–3˚C (32–37˚F) result in the best stockfish. In March and April, the island of Støtt has ideal weather for drying fish. After a couple of months, the fish are taken down from the drying racks. When it's time to prepare meals in Restaurant Gammelbutikken, the stockfish are soaked and the skin is removed. Our chef uses the loins and finer sections to prepare our main courses, while smaller pieces and trimmings are turned into our popular stockfish soup.
Bon Appétit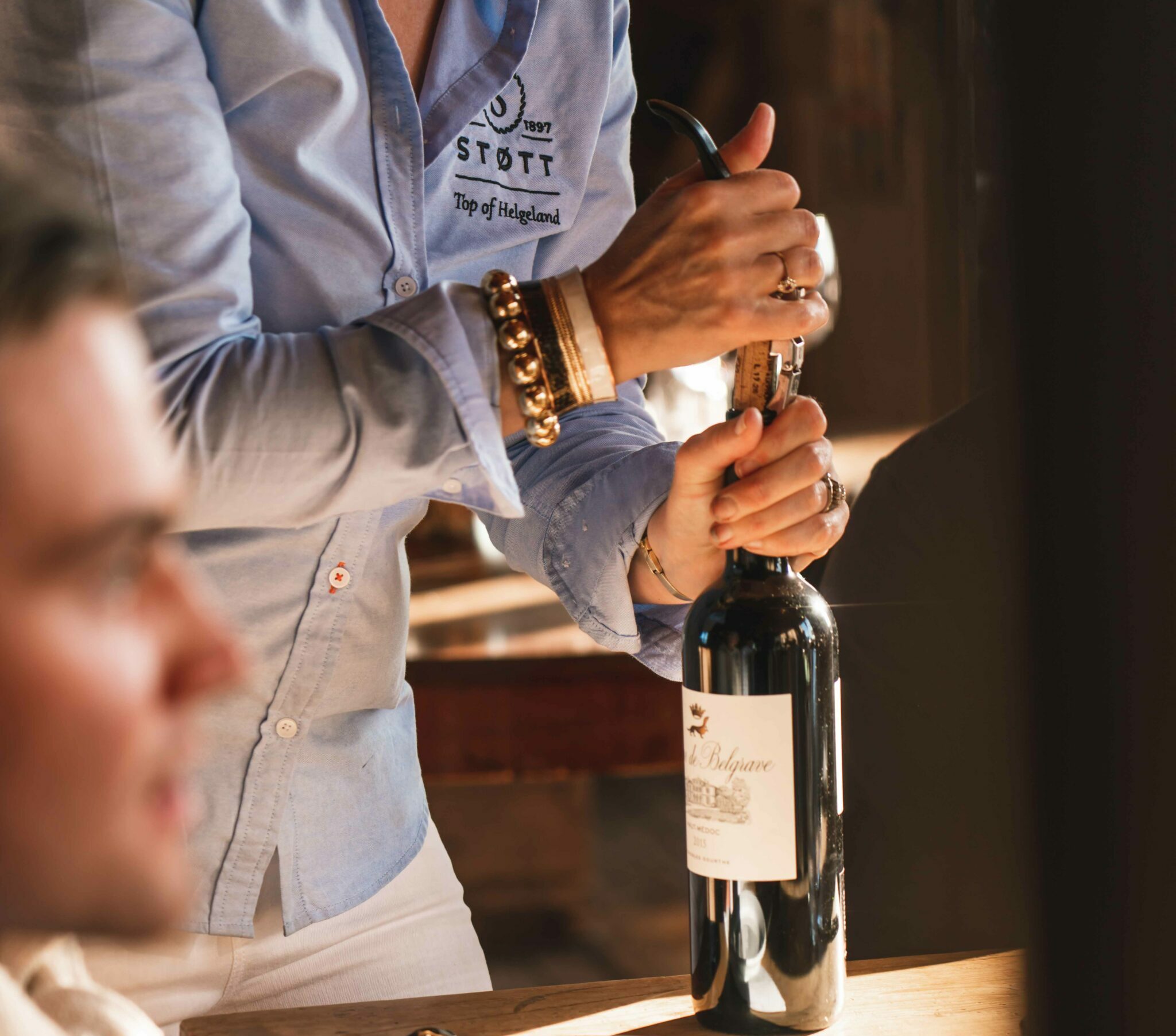 Wines for the discerning diner
A truly great dining experience depends on achieving a good harmony between food and wine. Our wines are carefully selected and expertly paired with the seafood dishes we serve. Our wine agent assists us in composing a wine list that ensures a successful meal. For our three- and five-course set menus, we always offer a package of recommended wines.
Your friendly, knowledgeable host
Our philosophy has always been to be authentic and to share generously. We can tell you amazing stories from the heyday of the Støtt Old Trading Post, and update you with the latest developments on our island.
As a guest at Restaurant Gammelbutikken, you will hear the stories behind the fish caught and other ingredients used, about the recipes, the old objects that surround you and the building in which you are dining. During the summer, the stories and the historic atmosphere are amplified; the fisheries museum on the second floor becomes an additional dining room, as we seat our guests on two floors.
Fotograf: Benjamin A. Ward - VisitNorway.com
A must in Helgeland!
"Støtt Brygge is a highlight on the Helgeland coast that's not to be missed. It has a well-sheltered harbour and beautiful surroundings, and the host is terrific. The restaurant offers top dining, and even their museum is well worth the visit to Støtt. You can go canoeing or cycling, or just take a stroll and enjoy the amazing landscape. We'll be back soon for fishing, scuba diving and summit hikes in the area."
– Ole-Erik Lerøy
An excellent meal!
"Thanks for an absolutely excellent meal in a wonderful atmosphere last Saturday."
– Svein Tore Holsether
We'll definitely be back
"I was at Støtt Brygge with two youths in July. We took a kayaking course and had the opportunity to explore Støtt and the surrounding islands from the seaside. It's a fantastic area with exciting birdlife and beautiful flora! In September I went back and did a circuit walk of the island with my father who is in his 80s. In the evening we dined on delicious dishes made of the best ingredients. I highly recommend their restaurant! Støtt is a fascinating island with an interesting history. We'll definitely be back."
– Jane Andersen
Fantastic food, top Service and a gem of an island community, MUST be experienced!
"Støtt is a gem of an island community, an old fishing village that was an important trading post in the 19th century – with "rock-faces covered with clipfish". Our family was fascinated by this beautiful, charming and hospitable place. Here we could enjoy the scenery and tranquillity, go cycling, explore the German World War II bunkers and gun positions, go paddle, take a RIB sea-rafting safari and much more.
We spent the night in the newly renovated Bakery, in a nice suite that was tastefully furnished with antiques, but nonetheless had very comfortable beds and all the modern amenities. The service was top notch, with friendly hosts and a staff who gave us helpful tips that enabled us to really get the most out of our visit. The food was absolutely delicious, with seafood dishes such halibut and bacalao on the menu. Yes, Støtt Brygge is a unique place that we can highly recommend. We look forward to coming back! Thank you so much for a wonderful stay."
– Liv M.
A superb stay!
"We were three couples, old friends close to 70, who had chosen an adventure to Støtt Brygge, in the far north of the Helgeland coast. What a wonderful experience it was! The place, the food, the hosts and their good helpers. Our beautiful rooms took us back in time, and were nice and clean. The old buildings had been beautifully renovated. The scenery was pristine and magnificent. We went on a RIB sea-rafting trip to Myken to check out the whisky distillery run by Jan Hellstrøm and his wife, and their skilled employees. Thoroughly enjoyable whisky and gin tasting. We also took a fishing trip with a large fishing boat – great fishing combined with watching the sea eagles. We also spent a few hours hiking on Svenningen, a neighbouring island, with a guide who told us stories from the war. I can heartily recommend a stay at Støtt. Karsten and Mette, Karin and Per and Elisabeth and Erik."
– Elisabeth Heber
Genuine!
"I was impressed to my core by last night's dinner. We had such a nice evening at the museum, with wonderful food and drink. Very authentic!"
– Petter Fjeld
Wonderful Støtt
"We have had several absolutely fantastic days at Støtt Brygge thanks to our hosts, Eva and Sven. The food was exceptional – and I have to admit we're spoiled. The friendly hosts made sure we had a good time. We hiked the island and enjoyed listening to the stories about the old trading post and the island community. We took a two-day kayaking course, and earned our "wet card" certification. Conditions were great for learning how to master kayaking. Thank you so much for a wonderful stay!"
– Inger-Hilde T.
This place is an adventure!
"We spent our night in the Bakery, in a room that was charming yet modern. That evening we dined on a three-course menu in Restaurant Gammelbutikken. The food and service were fantastic! We also received a guided tour of the second floor of what was once an old shop. Highly recommended. This place is quite an adventure!"
– Eli L.
A gem of a destination in the open sea!
"Støtt Brygge is a gem that must be experienced! Out there surrounded by the open sea, Støtt Brygge is so much more than accommodation and a restaurant. It is a rare and unique destination well worth visiting. It's a delight to experience an old fishing village, now run as a hotel with rooms in charming old buildings! And they have an excellent kitchen! On Saturday we had a five-course dinner that was consistently of high quality in terms of ingredients, flavour and presentation. The wine package was a perfect match. We thoroughly recommend a stay at Støtt Brygge!"
– Kristin W.
We had a great time!
"We were a group of twelve adults and two children from Asker, Bygdøy and Bergen who had two fantastic days at Støtt. We came to celebrate someone's 80th birthday. We stayed on the second floor of Meieriet and Rorbua, the fishermen's quarters. The style of the refurbished rooms was consistent in every detail, with lovely beds and linen. We enjoyed many walks and lots of incredibly delicious food. We had a great time!"
– Merete L.
Go for a visit!
"The food was delicious and the quality of the ingredients was top notch. The new chefs really know their stuff, when it comes to preparing whale meat as well as fish like saithe. We can recommend each of the three courses in the set menu. We enjoyed many great walks on both islands. Go for a visit!"
– Travelling light
We came to Støtt to try the restaurant
"My family and I came to Støtt Brygge, stayed in the Rorbua and ate dinner in the restaurant. The surroundings are historic, the scenery is wild and pristine, and the food was exceptional in terms of both taste and presentation. The flavourful three-course menu was based with local ingredients. The whale, halibut and other fish were served with excellent wines."
– Eric N.
Courses, team-building and partying!
"Støtt Brygge, on an idyllic island far out at sea, is a place that exudes history, charm and friendly hospitality. The hosts provided a great conference room in the loft, as well as snacks and good food. Our celebratory dinner with fish and whale was especially great, as were the accompanying wines and beverages.
Our accommodation was hotel standard, with refurbished rooms, lovely beds and warm down duvets. Støtt Brygge is a beautiful venue with great food and friendly, helpful hosts. I can recommend it for a company conference and outing where you want to be alone and really concentrate."
MUST be experienced!
"A lovely place, lovely hosts, and lovely food! This place really has to be experienced. The old buildings surround you with history. And nearby there is more history to be experienced if you take a trip to Svenningen. Our seafood buffet was wonderful!"
– Mailen B.
An eminent chef
"It's a great pleasure to come here every summer – for lovely luncheons on the terrace by the magnificently restored restaurant house. We really appreciate the eminent chef and kitchen staff, and can highly recommend their fish soup and bacalao, and in fact the whole rest of their menu. Greetings from Eastern Norway."
– Eva K.
A winner!
"In my opinion, Støtt Brygge offers the best dining experience. Especially the stockfish soup with focaccia was a real winner! The stories they shared and the museum exhibition in the loft was very interesting. We can highly recommend everything."
– Merethe A.
A great place, lovely food and wonderful hosts
"This is an incredibly beautiful place out in the open sea. Støtt has a colourful history and now a new generation is running the old trading post. They have made impressive efforts to provide great dining and accommodation, while emphasising both your scenic and historical experience. The food is special, local and very good! Great atmosphere, very friendly hosts who show their interest and take their time. This place is worth a visit!"
– Per K.
You just have to come here!
"Wonderful food and good service in fantastic surroundings. Our main course was fresh halibut, perfectly prepared. The three-course meal was paired with a good selection of wines. If you are sailing the coast, you definitely want to pay Støtt a visit, and there is plenty of space for guests in their harbour."
– Alf-Ole D.
Go to Støtt!
"We were two girlfriends enjoying ourselves – spent the night in the Bakery, which has been completely renovated. Our suite was fantastic, with very stylish refurbishment and furniture, a harmonious mix of old and new. Wonderful dinners with bacalao, halibut and cloudberry ice cream! Really impressive. A delicious breakfast with omelette, crêpes, assorted cold cuts and good bread! Our good hosts offered full service, even though it was a very quiet weekend during the off-season. The people who run Støtt Brygge and work here were great people. We'll be back and look forward to exploring more of the surrounding scenery! If you haven't been to Støtt yet, a wonderful experience awaits you."
– Reise ALM
Quality all the way!
"This is a rare find in Norway. Quality accommodation and terrific dining, with exceptional food and wine. Local ingredients expertly prepared – and you clearly sense they have poured their heart and soul into everything. And Støtt is just a short boat trip from Bodø or Ørnes."
– Lise Regine